The first full day of our cruise was an "at sea" day, meaning we were traveling to our first destination. Apparently I was enjoying my freedom so much that I forgot to take pictures. I only got a couple of us eating breakfast.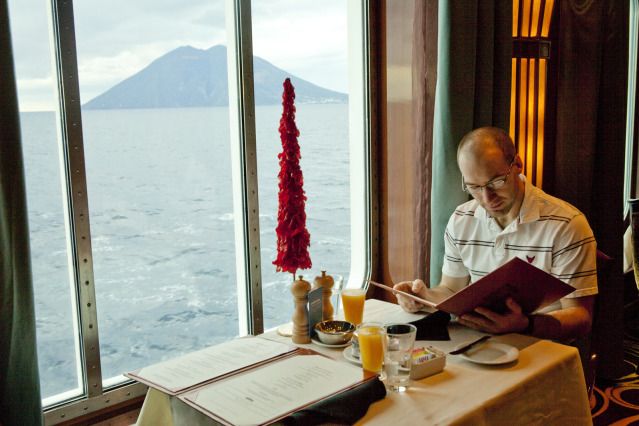 It was so fun to eat right by the windows and look out at the water. We almost always had a window seat.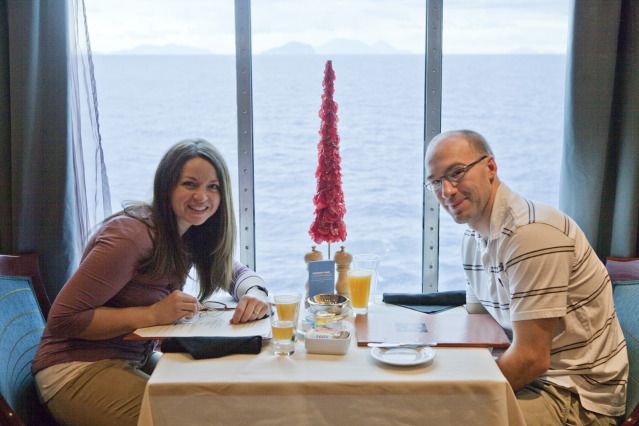 Our first stop was Olympia, Athens. The name of the port was Katakolo. It was a teeny little port with lots of touristy shops right by it. We ended up purchasing an "excursion" through the cruise ship at this stop, only because we were unsure that we'd be able to find public transportation from Katakolo to Olympia. Our excursion only included trasportaion to and from the port (we have a high aversion to tour groups), so we were able to tour on our own and mostly avoid the crowds.
I'll be honest. I wasn't expecting much of Olympia. I was glad it was the first stop so we could start slow and build up. But I was completely surprised with how much I loved it. Imagining all of the first Olympians here was incredible. I guess the "Sanctuary of Olympia" was actually religious place, dedicated to Zeus and the rest of the gods, and opened to the public only for the Olympic games. Here is part of the old gymnasium where the athletes came to practice boxing, wrestling, and jumping: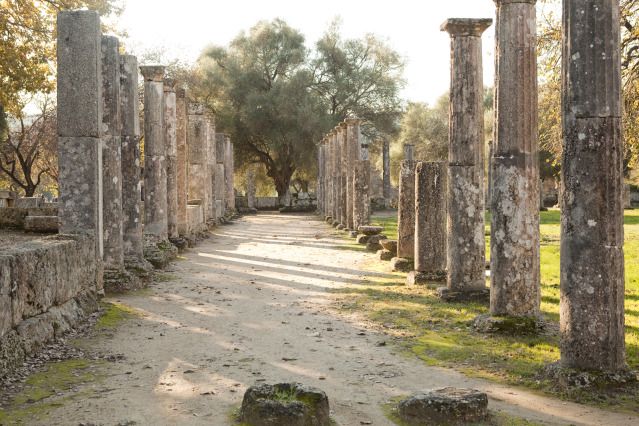 Something tells me that girl is not an Olympian.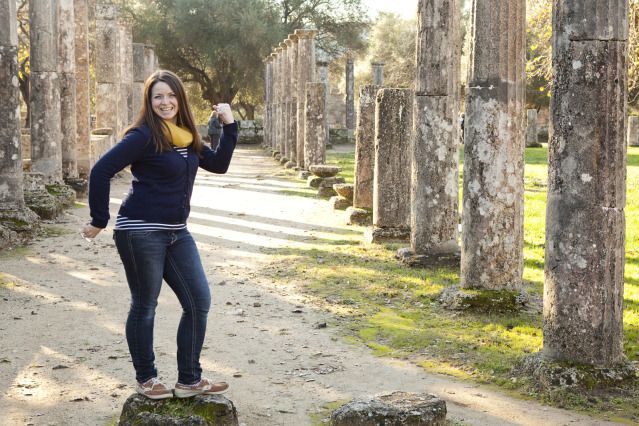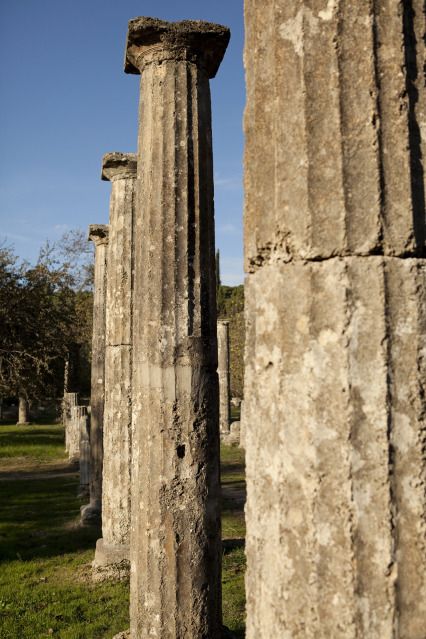 Are you all "ruined" out yet? If not, you will be. Just keep scrolling.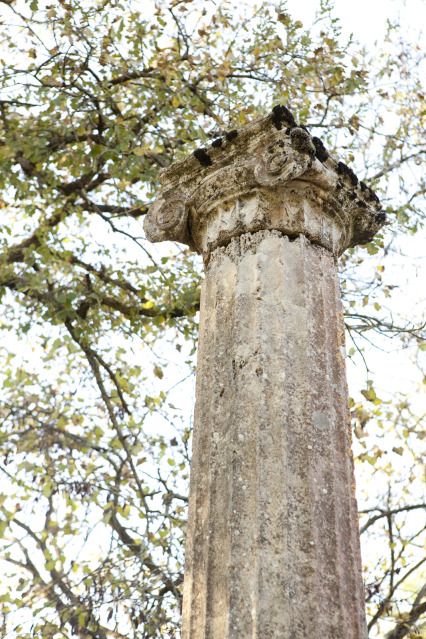 The workshop of Pheidias where he created the 12 meter tall, gold and ivory statue of Zeus. This statue was one of the seven wonders of the ancient world.


A view of Kronos Hill, legend spot of Zeus' birth. It was also on Kronos Hill that Zeus' father (Kronos) tried to eat baby Zeus. But the pesky baby, with the help of his mom, escaped and later overthrew his father. He then went on to lead the rest of the gods.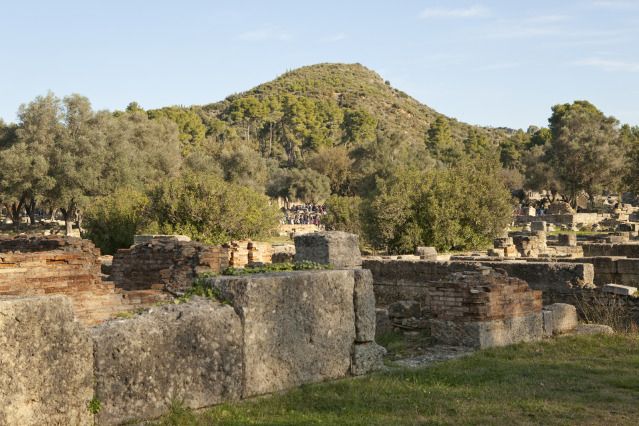 The Temple of Zeus, where the statue I mentioned earlier once resided. It has since disappeared. Mysterious.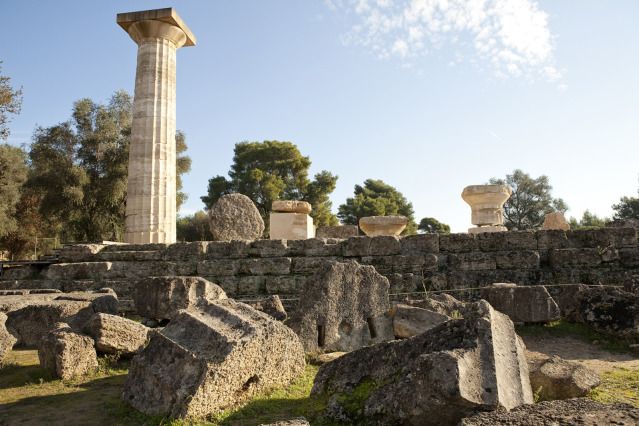 Behind us are all the pillars that used to make up the perimeter of the Temple of Zeus, but tumbled to the earth in an earthquake around 600AD. They look like giant stacks of checkers that were knocked over.



Pillar of Nike (the statue of Nike that used to top this pillar is now in the museum)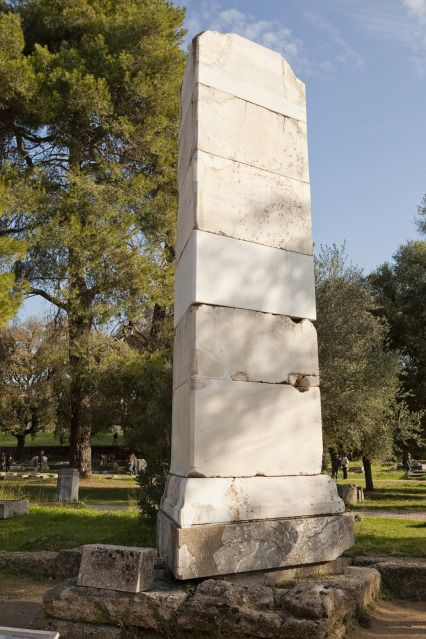 I can't remember the official name of this, but basically this is where there were statues of Olympic "cheaters" all in a row. We'll call it "Cheater's Row." That's catchy. Anyway, they were built and then as people were walking to the stadium they would spit on the statues to show their disgust of these men. In the ancient Olympics, I guess there really were no losers. Unless you cheated. Then you were a disgrace.



Entrance into the original Olympic stadium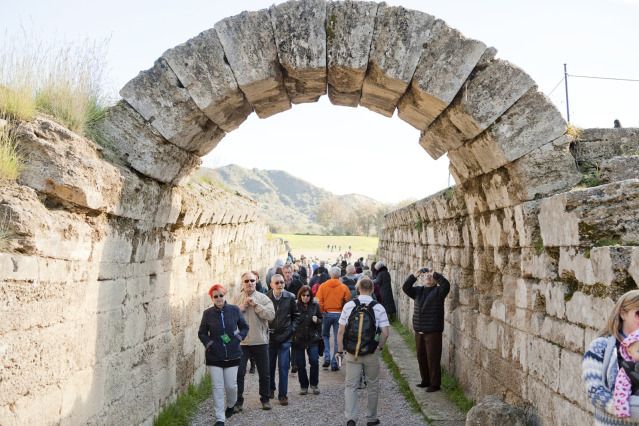 In the first Olympic games there was only one event. A 192 meter footrace. Here I am on the original starting blocks...in a state of awe that I am actually standing here. So unreal.

Dusty and I ran the 192 meters together. It was a tie. Such a highlight of this trip for me. Tracing the steps of the original Olympians...I mean wow. I didn't get a picture of the entire stadium (major fail), but basically it was a big open dirt field with grassy slopes surrounding it. There were no bleachers or formal seating. Just take a piece of grass on the hill.
After we ran, we walked up the grassy hill and saw this scene which seemed very Greek to me...a grove of olive trees.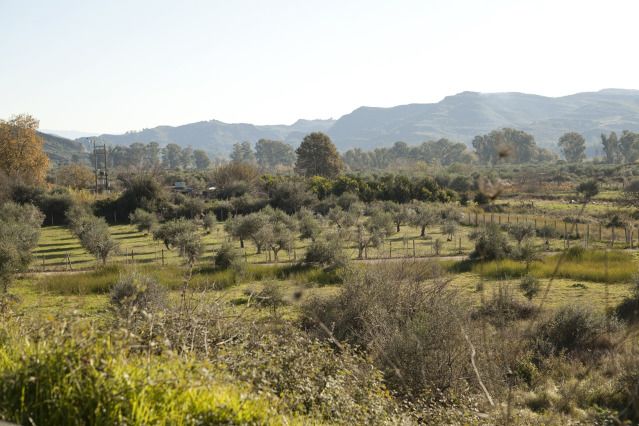 This is the spot where the Olympic torch has been lit ever since the Games started. Even to this day, there is still a lighting of the torch ceremony here on this spot, and the torch travels often thousands of miles to its final destination. How cool is that?



Temple of Hera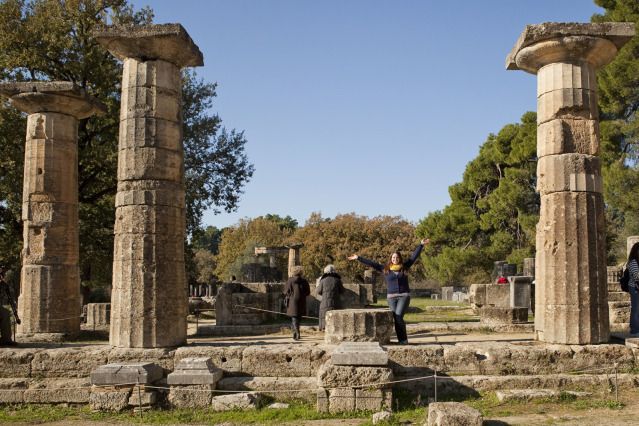 The Philippeion



Dusty was in control of the camera from time to time, and he forbade me from deleting this picture. He said he has pictures of himself looking foolish all over this blog, so now it's my turn. It is always fun to see what you look like in the eyes of your spouse. Poor Dusty, he probably sees this a lot.



Hopefully he sees this from time to time, too.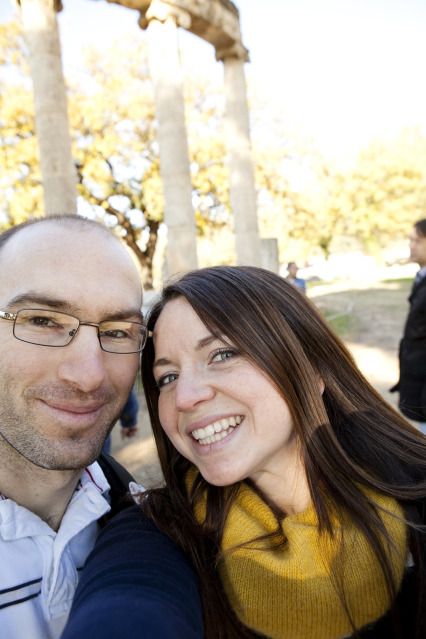 These are bathtubs where Olympians would come to wash off their protective olive oil/dust combination after competing.



After walking around the "archeological site," we headed over to the museum to see more of the ruins that have been taken there for safe-keeping.
The statue of Nike that topped the pillar I talked about earlier.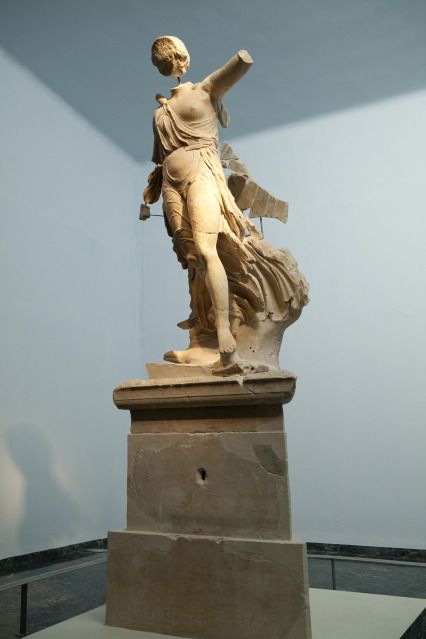 The helmet that the Athenian general Miltiades dedicated to Olympian Zeus after his victory over the Persians in the battle of Marathon.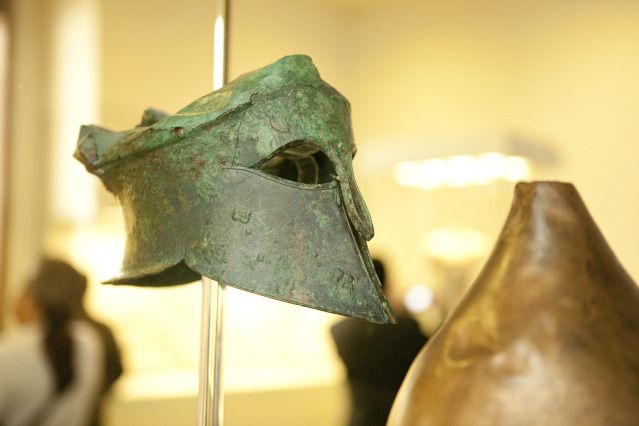 Statues from the east pediment of the Temple of Zeus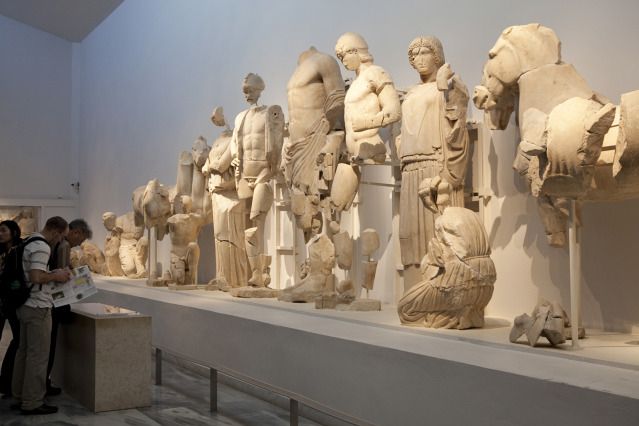 Hermes and the Infant Dionysus

We got back to the port with plenty of time to find an internet cafe, check in with the kids, and do a bit of shopping. We came across a fun store that sold all kinds of things made of olive wood. It was all so beautiful. And expensive. Definitely had to hone my inner "Dave Ramsey" to control myself. Which is a problem Dusty doesn't have. Sometimes I think he is Dave Ramsey.

And then it was back to the ship! The ginormous ship.